Millionaire Loan Officer
Maybe you feel as though your career as a Mortgage Loan Officer is stuck in a rut, or maybe like you're spinning your wheels year after year, unable to delegate and let go of trivial details. Or maybe you're new to the mortgage industry and are looking to succeed in this field. If you are one of these people, then The Millionaire Loan Officer is the perfect resource for you!
The Millionaire Loan Officer is a game changer for mortgage professionals everywhere. In the book, you'll meet Diane and Peter: two people in the mortgage business with completely different yet interwoven stories.
Based on real life events and the teachings of loan officer mentor and author, Scott Hudspeth, you'll follow Diane and Peter through the steps for success. With each chapter's 'Final Thoughts' section, you'll gain the knowledge and action items needed to take you from "Mortgage Loan Officer" to "Millionaire Loan Officer"!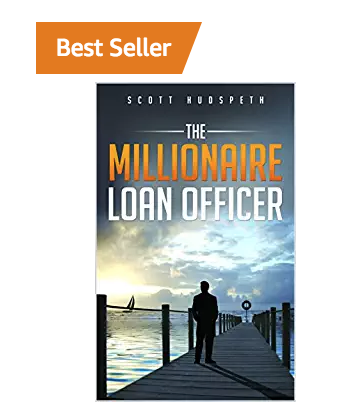 What you will learn from this book:
How to put together a business plan

that can earn you a 1,000,000 in commissions.


​How to identify and build solid business relationships (even if they are cold) with qualified agents for

consistent monthly referrals

​How to master the phone conversations (scripts and objection) with agents to get the face to face appointment.

​How to WIN agents over by using the "Law of Reciprocity" to educate, train and coach

​The systems and people you need in place to become the next Millionaire Loan Officer.

​Power meetings that have agents seeing you as a valuable business partner rather than a "salesperson" trying to get their loans.

​Strategies to discover your stress-free, money-making activities and how to prioritize them so that you can be more productive and efficient with the time you do have.

​Live events and trainings you can attend as a loan officer to grow your business.

​How to leverage technology and software to close more deals and do more loans.

​A simple yet effective direct mail campaign that you can start now even on a small budget.

​Mistakes to avoid if you're thinking about making the transition from loan officer to branch manager.

​And much more…
Overview
WHY READERS GO INSANE FOR THIS BOOK
The secrets to a million in commissions for sure

Scott has brought through story what we loan officers go through on a daily basis. And then he shows us in the book the secrets of winning big time! Amazing! I am paying thousands of dollars for this info in coaching and he's paying it out all in this book. Amazing.
- Jevon Perra
Mortgage Professionals must read

Wonderful read for Mortgage loan officers of all skill levels. If your a new LO you will be given fantastic advice on how to create a career with limitless earnings, if your a veteran LO you will be reminded of systems you need to put in place or if not reminded, told about great systems you should put in place. Scott puts all this in a very fun real life setting in this informative, and surely to be highlighted and dog-eared for many loan officers across the Country.
- Jeff Mars
Achieve a higher level of success in business and life!

Truly inspiration and information that is transformative. The Millionaire Loan Officer strategy is truly a secret to success. Achieve a higher level of success in business and life! Karen Briscoe, author & podcast "5 Minute Success"
- Karen Briscoe